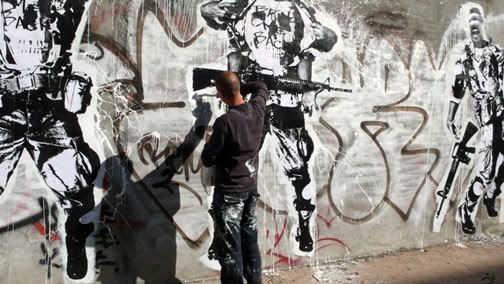 FOR THE LONGEST I HAVE ARGUED THE POINTLESSNESS OF THE WAR IN IRAQ. THE PRESENT PRESIDENTIAL ADMINISTRATION HAS NEVER HAD A PLAN FOR THAT WAR. THEY ONLY HAD AN AGENDA UNRELATED TO THE FALSE CLAIMS THAT WERE COOKED UP TO SELL THE WAR .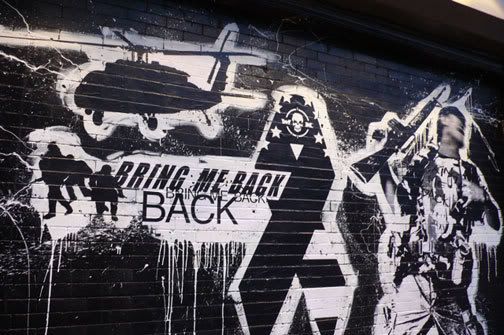 THE USE OF PROPAGANDA , RACISM , AND STEREO-TYPES WERE AND ARE USED TO MOLD IDEAS AND OPINIONS, AND BETTER YET THE CRAZIEST PROPAGANDA THAT SEEMS TO BE ALL OVER THE MEDIA FROM TELE-JOURNALIST IS THAT IF YOU OPPOSE THE WAR YOU ARE A SUPPORTER OF TERRORISM OR TERRORIST. HELLO THAT JUST MEANS I AM AGAINST KILLING . TO CHRISTIANS (WHICH THEY ALL CLAIMED TO BE STAUNCH HISTORIANS DURING THE PAST ELECTION ) ONE OF THE TEN COMMANDMENTS HANDED TO MOSES SAYS "THOU SHALL NOT KILL" .



TERRORIST DO EXIST (EVERYWHERE) , THIS COUNTRY WAS FOUNDED THROUGH TERRRORISM , (THE INDIAN MASSACRES, AND THE AFRICAN PEOPLE KIDNAPPINGS) SO FOR THOSE PEOPLE TO KEEP DYING FOR CAPITOLISTIC AND ILLUMANATI GOALS IS GROTESQUE TO SAY THE LEAST . THE ADMINISTRATION IS MAKING A STRONG LEAN TOWARDS COMMUNISM BY NOT ALLOWINg AMERICAS CITIZENS FREEDOM OF SPEECH, TO SPEAK THERE OPINION. ANYONE IN OPPOSITION IS QUICKLY THROWN INTO BEING A SUPPORTER OF OSAMA BIN LADEN OR AL QUEADA.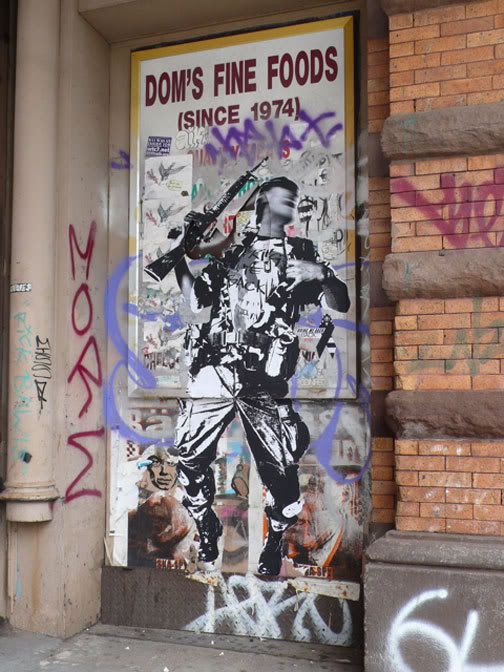 NEW YORK GRAFFITI ARTIST WK-INTERACT HAS LAUNCHED A PROVOKING CAMPAIGN TITLED "BRING ME BACK" THE SIGHT OF EACH IMAGE ARE URGENT, COMPELING AND THOUGHT PROVOKING. AND JUST THE WHOLE IDEA OF THAT OCCURING ON US SOIL IS EVEN DEEPER AND RARELY EVEN CONSIDERED. SEE PICS....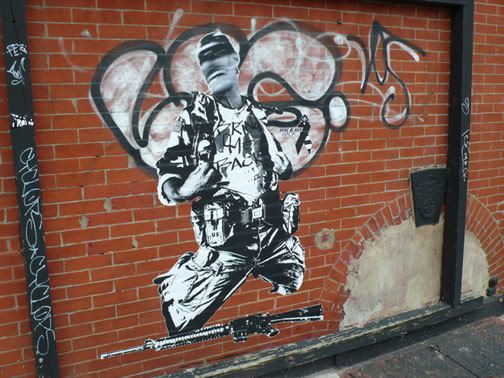 LAWS WILL NEVER LEGISLATE LOVE, ONLY THE HEARTS OF PEOPLE ...-SAFARI-BLACK