I BET MANY OF YOU ARE WONDERING WHY I AM WRITING ABOUT SKULLS. ??? MAN THEY ARE EVERYWHERE , ON SHOES, ICED OUT (THAT MEANS REAL DIAMONDS OR CUBIC ZIRCONIA) BELT BUCKLES, CANDLES AND YES EVEN PLATES LIKE BELOW.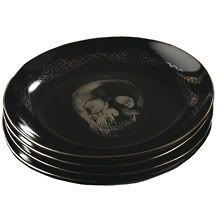 WHERE DID THIS POP CULTURE INFATUATION COME FROM. IN RAP MUSIC YOU HAVE ALOT OF 80'S ROCK INFLUENCE UPON THE CLOTHING INDUSTRY. AND IT SEEMS TO NOT EVEN BE CENTERED IN ONE MOVEMENT. YOU SEE IT ON MOTORCYCLIST , SKATEBOARDERS, RAPPPERS , AND HOUSE WARE DESIGNERS DEAN AND DELUCA
http://www.deandeluca.com/skull_plates.aspx
. EVEN THE IMPERIALIST FOUNDERS OF THIS COUNTRY BELONG TO SECRET SOCIETIES THAT USE THE SKULL AND BONES AS THERE INSIGNIA.
http://www.freedomdomain.com/skullbones.html
YEAH THE SAME PEOPLE THAT FUNDED ADOLF HITLER. HOW THINGS OF THIS NATURE BECOME INOCCENT FASION PARAFANALIA IS BEYOND ME (SHOULDER SHRUG). EVEN ONE OF MY FAVORITE CLOTHING COMPANIES
L-R-G LIFTED RESEARCH GROUP
DESIGHNED THE DEAD SERIOUS HOODY PICTURED ON KANYE WEST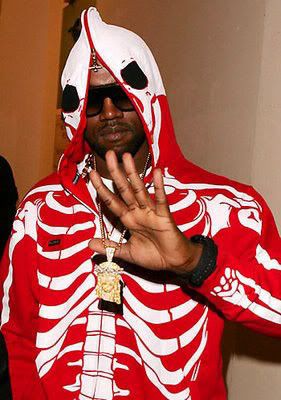 IF your lights go out you can allways rely on your.. skull candle ! i dont get the big deal if you get it let me know...(shrug)