INGREDIENTS

1) VITAL WHEAT Gluten
2) Peanut Butter
3) soy sauce
4) dry yeast
5) water
6) sea salt , canjun seasoning , garlic powder
7) Canola Oil

Directions : pour 2 cups gluten ,1 1/2 cups water ,1 cup smooth peanut butter
1/2 canola dry yeast , & soy sauce into a bowl ..pouring water last



Then mix them in a bowl until the yeast reacts to the water forming a ball , any loose mix can be molded to the ball by pressing with a large eating spoon.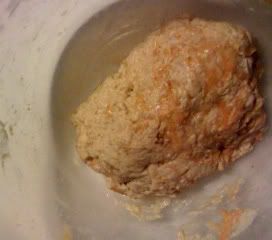 THen flaten the Ball on a Counter or cooking pan.....Then section into pieces using a sharp pizza cutter.


Coat your cooking pan with canola Oil and place pieces in pan , Cook on medium heat until browned


Coat the Mock ribs with Barbeque Sauce and serve... Tip: Allow the sauce to blacken on one side will give them the flavor of being grilled.